This customer, a clothing store with several branches, was looking for a better and above all a safer way to have the goods flow over 2 floors/stops. In the past, the roll containers were lifted to a higher floor by means of an electric chain hoist and then pulled to the floor over a rail. For the safety of the employees and for technical health and safety reasons, they looked for an alternative that could meet all their wishes and fit within the existing space.
Together with a specialist from Hublift, a goods lift was chosen that fits within the available space and where employees can easily enter and exit their clothing racks and roll containers. The customer has not opted for a floor recess, so the lift has been placed on the existing concrete floor and access to the lift is possible without any problems using a ramp.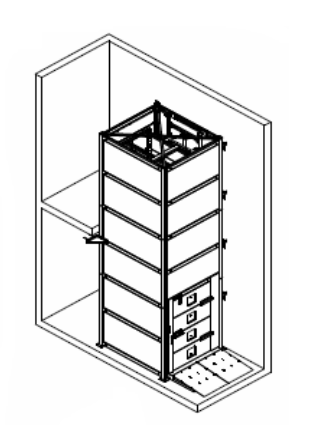 In order to promote a rapid flow of goods to be loaded/unloaded, a so-called drive-through system was chosen, in which the doors on the two levels are placed opposite each other. The complete lifting mechanism is built into a galvanized safety cage, which is fitted with electrically integrated revolving doors.
After both parties have agreed on the execution of the goods lift, the customer receives a detailed drawing in which all the agreements made are processed and production is started after the client's approval. Factory technicians have built the goods lift and fastened it to the floor, wall and mezzanine floor. After installation, the goods lift is tested, the customer is extensively informed and there is room for any questions.
Let's Work Together
We are happy to advice you and ensure that your elevator meets your needs, no bells and whistles that cause unnecessarily high prices. We focus on the origin of the request to create the elevator that fits your needs perfectly.