Car lift
We offer the solution for safe and easy transport of your car between the floors of your office, apartment complex or house. Hublift's car lifts offer the solution for a lack of space in your residential or commercial building.
What is a car lift?
Hublift car lifts are the solution for the lack of space and the associated parking problems. All car lifts are custom made and are therefore suitable for any type of building.
Hublift is a specialist in the field of car lifts. We have been working with our customers, colleagues and partners for more than 10 years to develop the perfect car lift. By focusing on the purpose of the lift, we build "no-nonsense" lifts throughout Europe.
Hublift hydraulic car lifts offer a perfect opportunity to move cars between levels. Our car lifts are custom-made and can be fully tailored to your needs.
The benefits of a Hublift car lift
Safe: The safety of you and your car(s) is paramount, our lifts meet the highest safety standards. Hublift designs and produces car lifts according to the Machinery Directive 2006/42/EC and the Lift Directive 2014/33/EU. This way we guarantee the safety of you and your car. With 2 or 4 lifting columns, the transport of your car is always stable and comfortable.
Flexible design: we supply cutomized car lifts and adapt the design to your wishes. Hublift also supplies car lifts, for example, that make it possible to transport a car over several floors.
Design: our car lifts can be adapted to your wishes. For example, we integrate the lift into your current driveway by means of a roof construction. When the lift is closed, it is barely visible.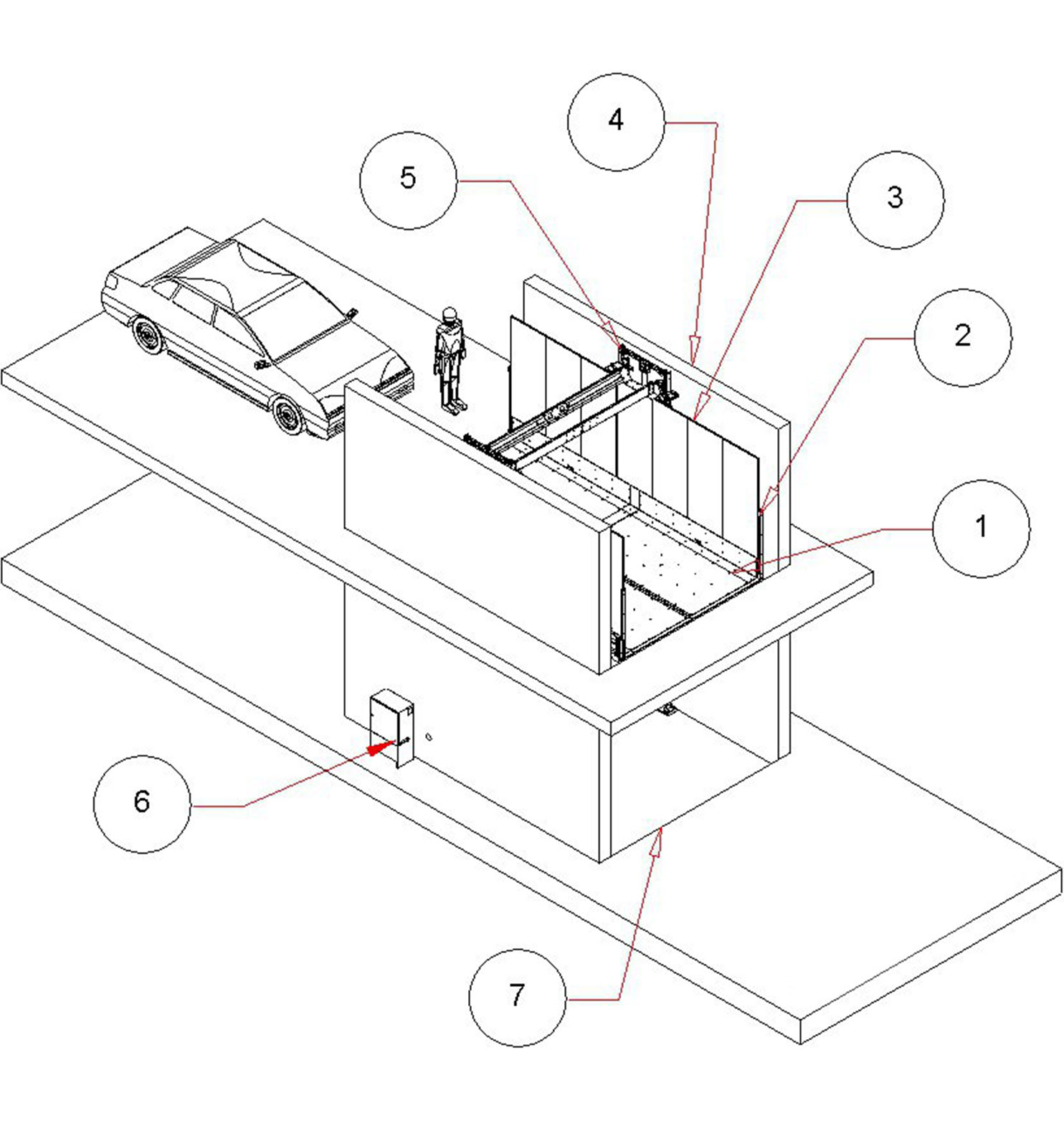 With our standard hydraulic car lift you can quickly and safely transport your car between one or more floors of your home or complex. We install this lift in an existing or yet to be built shaft.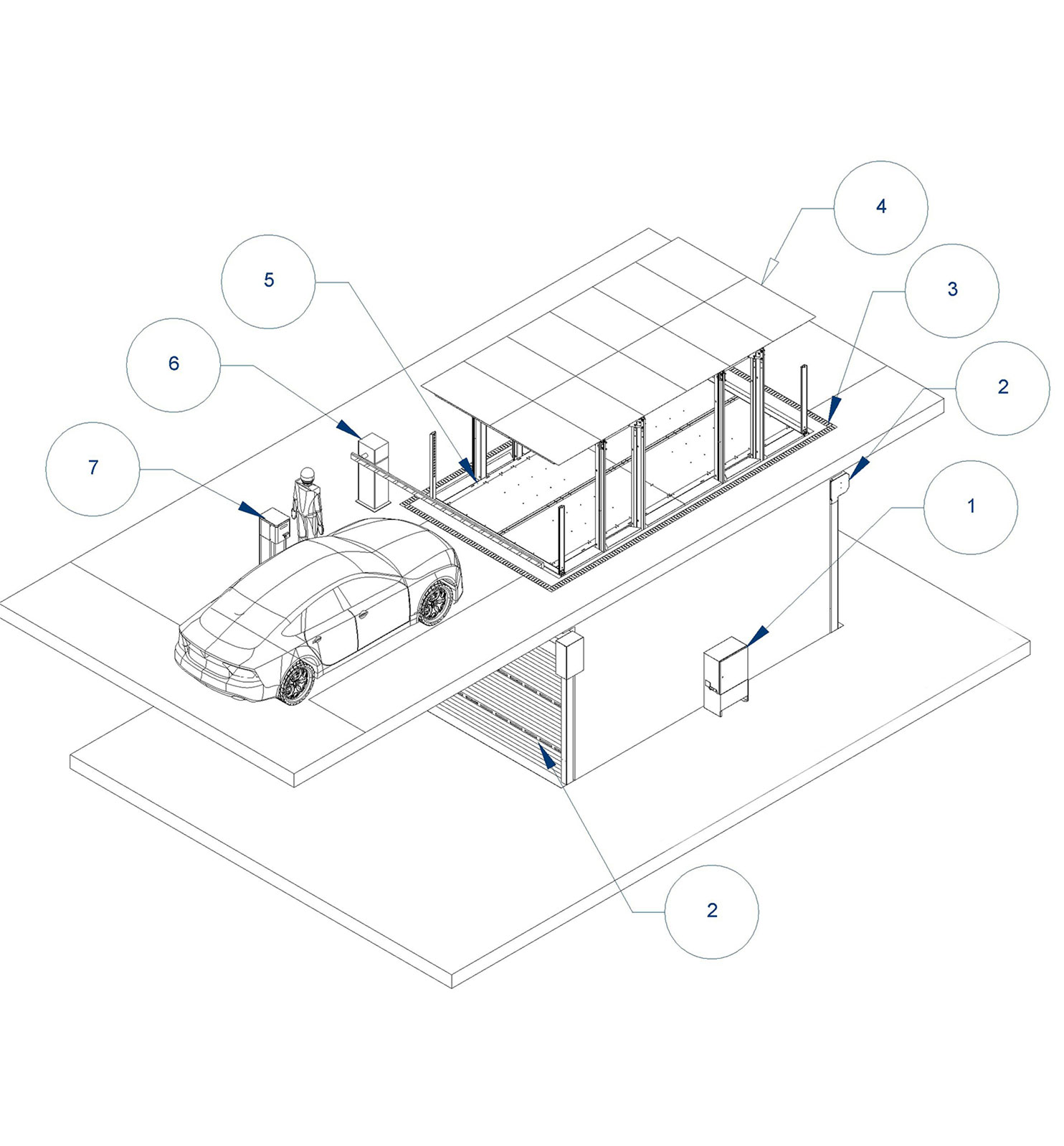 This lift is our top class car lift with independently movable roof for closing the opening. Guaranteed stability due to the version with 4 lifting columns. This lift can be placed in an existing pit or shaft.
Extensions to the Hublift car lift
Our car lift can be expanded with various options and can be placed at almost any location. Do you want to allow people to accompany the car in addition to your car, that is also possible.

Car lift with roof
Do you want to install the lift in your current garden or driveway and close it at the top? Then Hub lift supplies a movable roof to safely transport your car.

passenger transport
Do you want to allow people in the lift to accompany the car to another floor? A Hublift car lift can be expanded with passenger transport.

Lift in concrete pit
The lift can be mounted in a concrete pit or recess in an existing building object. Hub lift discusses the wishes and requirements with you for personal advice. Electric roller doors
Don't have room for double doors at the lift location? Automatic roller doors offer a solution. These can be placed on any lift .
Hublift is at your service in every step of the process, from design to realization. Whether it is a car lift in a car company, a car lift in your garage at home or under the terrace. A car lift from Hublift is always custom-made and can therefore be completely tailored to your wishes. First, we start by mapping out your requirements. To be able to build a car lift that fits your needs seamlessly, we need to understand how and for what the lift is used. Think of frequency of use, only moving cars or parking cars. After carefully mapping out your needs, we design a car lift that fits seamlessly. You will receive (3D) drawings of the car lift so that you can get a good idea of what the lift will look like.
Communication during the process
It's wise to involve Hublift early in the process to keep costs as low as possible. We do not limit ourselves to providing a car lift, but think along with you. If we are involved early in the process, we avoid unnecessary adjustments later in the process.
Comfortable transport of cars in your car lift
Comfort comes first, which is why we do everything we can to transport your car as stable as possible. Would you like to stay in the car yourself? Then that is also possible. By means of extra safety measures, you can easily and comfortably transport your car to another floor.
Production of the car lift
Hublift car lifts are developed and produced in-house. We produce car lifts with top quality materials. We follow the strictest safety guidelines so that we can guarantee the safety of you, your vehicle and bystanders.
Installation of the car lift
We then carefully assemble the lift with a team of specialized technicians. After installation, we extensively test the lift with different cars, therefore the installation time varies. In addition, the installation time depends on, among other things, the design of your lift and the conditions on site.
Support and maintenance
To ensure trouble-free operation of your lift, we offer customized maintenance . We adapt the maintenance to your wishes and the intensity of the use of your lift. In addition, you are entitled to a 48-month warranty if you have periodic maintenance carried out by Hublift.
Are you convinced of the quality and advantages of our lifts? Please contact us to schedule an appointment. We would be happy to visit your location to discuss your wishes, so that we can make you a suitable offer. You can always contact us for any viewings or references. See also our projects page if you want to see more examples of our lifts.
Let's Work Together
We give you advice without the obligation to order and ensure your lift meets your needs. No bells and whistles that cause unnecessarily high prices, as we focus on the origin of demand to create the lift that fits your needs perfectly.