Universal parking system
The UP parking system creates parking spaces in an economical way. Examples are commercial buildings, office buildings and buildings accessible to the public. On multiple levels, cars are lined up side by side and behind each other, making the most of a small space.
The parking spaces in the self-supporting steel construction or concrete construction are accessed by a specially designed pick-up and pick-up unit that runs the entire length of the parking system and has an integral lifting unit that makes it possible to reach all levels. The system raises and lowers as it moves longitudinally. The combination of movements in one unit saves a lot of space and enables fast access times.
In the UP system, the parking spaces are located to the right and left of the recovery and collection unit. Up to two vehicles can park one behind the other on each side. In the longitudinal direction, there is almost no limit to the number of vehicles. If there are more than 100 places and/or the building is higher than 20 m, a second pick-up and return unit is recommended. For greater efficiency and speed, the transfer space of the UP parking system should be placed as close as possible to the center of the longitudinal structure. This minimizes transport distances.
Our software distinguishes between long-term and short-term parking and sorts the vehicles accordingly. When a vehicle needs to be picked up, this quick coupler system provides instant access to a car, even if it is coupled to another. The control system reacts at peak times and thus prevents long waiting times.
For added convenience, a rotating platform in the transfer area or on the storage and retrieval unit is available as an option; in addition to making the fully automatic parking system even safer, it simplifies operation. The turntable always delivers cars in the direction of travel. Users can drive in and out without manoeuvring. The turntable also creates more planning space for architects by making it easier to adapt the entrance area to the building.
Laser and infrared sensors ensure maximum safety for people and cars. For example, the system scans every car before it is parked to make sure no one else is in it. It also continuously ensures the minimum required distance between each car and the parking garage. Regardless of size, no vehicle will make contact.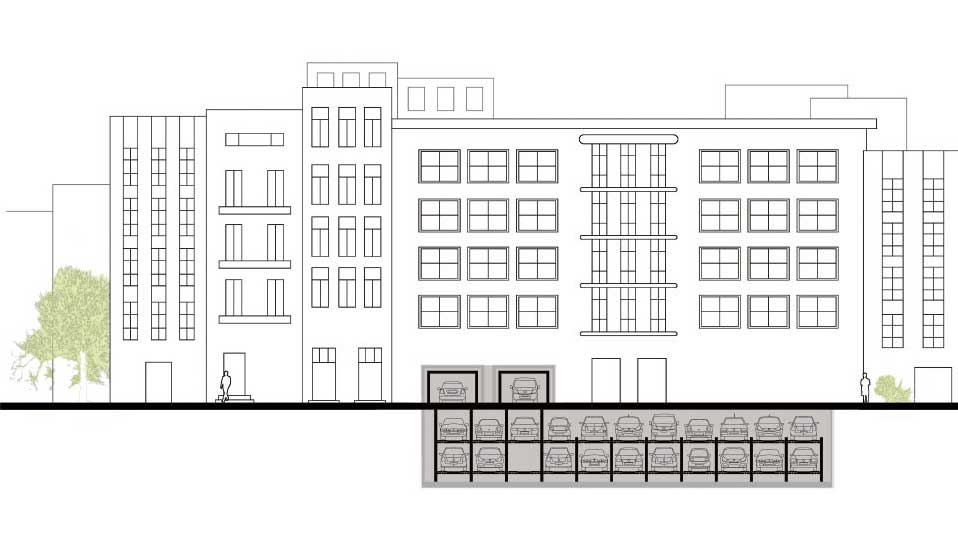 Parking system features
One storage and retrieval unit for all movements
Combined lifting, lowering and sideways movement.
Vehicle is transported on pallet platform
For all common passenger cars
Automatic discharge for pallet platform (snow, rain, …)

Optional: turntable for flexible input configuration

Galvanized System Components for Corrosion Protection
Multiple transfer rooms possible for more traffic
Underground, above-ground or mixed construction possible
The advantages
Combined movement for high performance
Intelligent sorting in the system for fast vehicle retrieval
Several hundred parking spaces per system possible
Convenient use by the public at peak times and in heavy traffic
Spacious entry space instead of narrow ramps
Rotating platform in the transfer room can park and pick up cars in the driving direction
No complicated ventilation or lighting systems required
Simple and effective protection against theft and corrosion
Let's Work Together
We are happy to advice you and ensure that your lift meets your needs, no bells and whistles that cause unnecessarily high prices. We focus on the origin of the requirements to create the lift that fits your needs perfectly.