In addition to goods lifts, Hublift also supplies various other lifts, such as goods lifts with roller conveyors, passenger lifts and car lifts. In this blog we focus on car lifts.
Hublift delivers tailor-made car lifts, the car lift is designed and produced entirely according to the customer's wishes. The car lifts are ideal for, for example, multi-storey car companies, parking garages, but also private homes. A common lift for a home is a car lift in houses with a garage in the basement. A car lift saves a lot of space and ensures that you can use the space flexibly. In this blog we explain 2 examples of car lifts.
Car lift TC 2500
This car lift has a capacity of up to 4000kg and is powered by 2 hydraulic lift cylinders. Most of these car lifts can be found in the private sector due to lack of space, for example in cities.
The construction of a car lift is easiest to do if Hublift is involved at an early stage in new construction of your home, business and / or renovation of existing garages or basements, etc. All necessary adjustments can be indicated and implemented in time. The car lift is mounted in a (concrete) construction shaft, see photo.
In addition to saving space, safety with regard to theft or damage, etc. is also an important aspect when choosing a car lift to safely store your holy cow.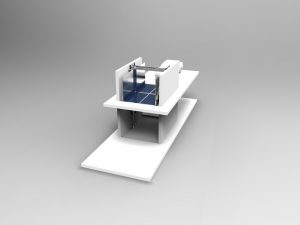 Carlift TC 4C R with independently movable roof
This car lift is equipped with no less than 4 lifting cylinders which guarantees maximum stability and reliability and is available with a maximum capacity of up to 8000kg.
The movable roof closes the shaft at the top, after which your vehicle may descend even further. This car lift is also installed within a (concrete) shaft as shown in the attached photo.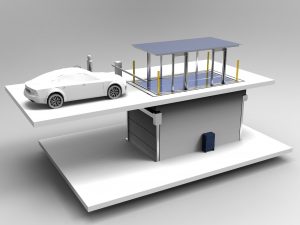 Would you like to know more about what is possible with the custom car lifts or one of the other lifts from Hublift? Please contact us, we are happy to think along with you!